CCNY :: Division of Science :: Mathematics
Department of
Mathematics
Meet new mathematics faculty: Prof. Hanson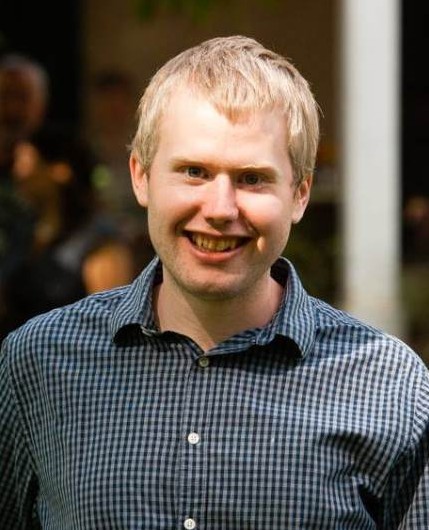 Prof. Hanson comes to CCNY as an assistant professor starting Spring 2016. His research lies in discrete probability and statistical mechanics with specializations in first-passage percolation, the Abelian sandpile, and random walks on critical percolation clusters. His 2013 doctoral degree in physics is from Princeton University and he comes to CCNY from a Zorn Postdoctoral Fellow position at Indiana University.
Math Club
Welcome to the Math Club page!
---
Executive Committee, 2016-2017
President: Pavel Javornik

Vice-President: Eduardo Balladares

Treasurer: Alejandro Sanchez

Secretary: Solange Ortega

Faculty Advisor: Bianca Santoro
---
Mission:
To promote community amongst math enthusiasts at CCNY.

To keep math related majors apprised of career, research, and scholarship opportunities.

To encourage the appreciation of the beauty and wonders of mathematics.
---
How to Become a Math Club Member:
Please join the Google Group and the Math Club group on Facebook.
---
Events:
Thursday, February 23, 2017, 01:00PM, NAC 5/150
Paul Mucciarone (St. John's School of Risk Management),Recruiting for the MS in Actuarial Science
Have you considered becoming an actuary? St. John's University has a four-semester program designed specifically to help you launch your career in this lucrative and rewarding field.
The MS in Actuarial Science will enhance your critical and analytical thinking while preparing you to succeed on professional actuarial exams. St. John's also has individualized career services, a wide range of corporate connections and generous scholarship opportunities.
Paul Mucciarone is the assistant director of admissions for St. John's School of Risk Management. He will be leading the discussion on Thursday, February 23rd at 1:00 pm.
Undergraduate Lecture Series:
Starting this Fall, The Math Department is organizing a student seminar designed to have faculty present accessible lectures to start conversations on advanced mathematics. These talks will be accessible to undergraduate students and cover a wide range of topics. For the Fall 2016 semester, we will meet in NAC 4/148 from 1:00PM-2:00PM on Thursdays. For more information, please check out the seminar website.
Stony Brook Math Day, November 12:
Stony Brook Math Day is a one-day festival for all undergraduate math majors. Come hear talks by James Simons, Simon Donaldson and other mathematicians; take part in math-related activities; and connect with faculty and students over lunch and tea. This year's Math Day will be on Saturday, November 12th. Financial support for travel is available. Registered participants will have lunch and tea provided. The deadline for registration was October 24th, but if you are still interested in going, please send me (bsantoro@ccny.cuny.edu) an email by the end of the day TOMORROW (OCTOBER 29), and I will try to make the arrangements.
---
Opportunities:
Mellon Mays Undergraduate Fellowship (MMUF), applications due March 10th.
This prestigious national fellowship aims to encourage the most talented undergraduate students from groups traditionally underrepresented in graduate education—as well as others with a demonstrated commitment to eradicate racial disparities—to enter Ph.D. programs and pursue careers in research and college teaching. Benefits include:
-Academic guidance, faculty mentoring, and workshops that assist undergraduates to prepare successful applications to doctoral programs;
-Participation in an interdisciplinary peer group of outstanding students;
-$1,800 semester stipends for each of four semesters;
-$3,900 summer research stipends for two summers;
-Participation in an intensive 10-week academic summer program at the University of Chicago during the first summer of the fellowship;
-Monies for travel to attend academic conferences and to pursue research;
-GRE test preparation fees and doctoral application fees;
-$10,000 student loan repayment for graduates who pursue doctoral degrees;
-Continuing academic and financial support from the Andrew W. Mellon Foundation during doctoral studies and during years as a junior faculty member.
MMUF is available to students majoring in the humanities, areas studies, music theory, ethnomusicology, anthropology, sociology, political philosophy, ecology, mathematics physics, earth sciences, and computer science. Financial need is not a consideration.
For more information and the link to the application, visit our program website: http://www.ccny.cuny.edu/fellowships/aboutmellon.cfm. See also the national website http://www.mmuf.org.
For more information, contact members of the City College Fellowship Program Steering Committee: Susan Besse (History, Director), James Booth (EAS), Timothy Ellmore (Psychology), Isabel Estrada (Foreign Languages), Swapan Gayen (Physics), Norma Fuentes-Mayorga (Sociology and LALS), Andras Kisery (English), and Adrienne Petty (History)
MASS Program.

The Mathematics Advanced Study Semesters (MASS) program started in the Fall of 1996 and is held during the Fall semester of each year. The program combines advanced learning with research initiation and provides a highly charged interactive environment among a critical mass of talented and motivated students and a committed group of strong research faculty and top graduate students. For most of its participants, the MASS program serves as a spring board to graduate schools in mathematics.
The Program:
The program consists of three courses chosen from major areas in Algebra, Analysis, and Geometry respectively, specially designed and offered exclusively to MASS participants, and a weekly working seminar. Additional features include colloquium-type lectures by visiting mathematicians and mathematical projects involving research and creative use of computers.
Enrollment:
Participants are selected from applicants who will be juniors or seniors in the following academic year (sophomores may be admitted in some cases). All participants are expected to have demonstrated a sustained interest in mathematics and a high level of mathematical ability and to have mastered basic techniques of mathematical proof. The expected background includes a full calculus sequence, basic linear algebra, a transition course with proofs (such as discrete mathematics) and advanced calculus or basic real analysis. The search for participants is nationwide. International applications are invited as well. Each participant is selected based on academic record, two recommendation letters from faculty, and an essay (international applicants should demonstrate their mastery of English).
Financial Arrangements:
Successful applicants currently enrolled in U.S. colleges and universities will be awarded the Penn State MASS Fellowship which reduces the tuition to the in-state level. Best efforts will be made not to increase their out of pocked expenses.
CONTACT INFORMATION
MASS Program Department of Mathematics The Pennsylvania State University 107 McAllister Building University Park, PA 16802 Phone: 814-863-8730 FAX: 814-865-3735 E-mail: mass@math.psu.edu Web: http://www.math.psu.edu/mass/