Association for Women in Mathematics (AWM)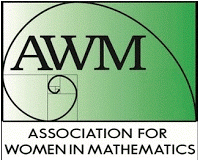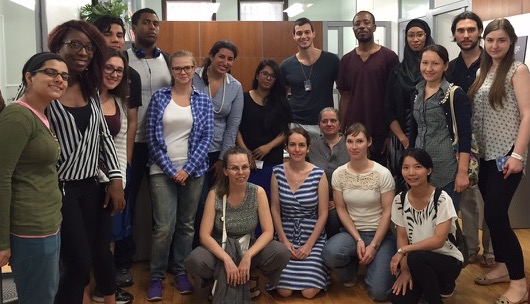 We are the CCNY student chapter of the Association for Women in Mathematics (AWM). We want to help foster a sense of community among math enthusiasts at CCNY. We organize various events including group meetings, invited speakers, and community outreach. Our goal is to have students and faculty interact outside of the classroom and to form a support system for each other.
ALL CLUB ACTIVITIES HAVE BEEN SUSPENDED FOR THE REST OF THE SEMESTER
2019-20 Executive Committee:
President: Karoline Dubin

Vice-President: Brenda Delamonica

Secretary: Alicia Yen

Treasurer:

Faculty Adviser: Zajj Daugherty
How to join:
Join our Google Group to receive emails on future events. Also, please fill out our survey for any suggestions you have for events! All CCNY students are welcome to join. All members receive complimentary membership in the AWM. If you have questions about getting involved, email us at awmccny@gmail.com
You can also join our AWM CCNY group on facebook.
We are looking for two additional eboard members for next year! If you are in the masters program and interested in helping to run AWM, let us know!
Spring 2020 Announcements:
Tea Time
Mondays and Thursdays, 3 - 5 pm, NAC 6/270
Join us to drink tea, eat cookies, and talk to other math students! Feel free to stop by to ask for advice on classes, graduate school, the Math GRE, how to get involved in research, and whatever else is on your mind.
Lightning Talks
SUSPENDED FOR THE REST OF THE SEMESTER
Thursdays, 3:15 - 3:30 pm, NAC 6/270
We are hosting lightning talks by students!
All students are invited to participate! If you are interested in giving a talk, email us at awmccny@gmail.com. Possible topic ideas: categories, knots and links, model theory, countable vs uncountable sets, axioms of set theory, modular forms, millennium problems, the Ising model, temperly-lieb algebra, random matrices, topics in: game theory, combinatorics, statistical physics, ergodic theory ... the list goes on.
Calendar of Talks:
2/13: Circulant Matrices, Karoline Dubin
2/27: Fractal Image Compression, Abdoulaye Maiga
3/5: Category Theory, Taro Shima
3/12: OPEN!
3/19: Formal Methods, Nate Sands
3/26: Principal Component Analysis, Vincent Filardi
4/2: Commitment Schemes, Marino Echavarria
4/9: SPRING BREAK
4/16: SPRING BREAK
4/23: DAY OF SCIENCE, no talk scheduled
4/30: OEPN!
5/7: Game Theory, Nathaniel French
Math GRE Subject Test
If you are interested in taking the Math GRE subject test and want to join a study group, AWM and Math Club are organizing review sessions. The test is offered three times a year, upcoming test dates with registration deadlines are:
April 4, 2020 (registration deadline: Feb 28)
Dates and registration deadlines for the September and October 2020 exams will be announced later in the spring. If you want to take the test in New York City, register early - spots fill up very quickly.
See registration information here.
Spring 2020 Events:
Division of Science Research Panel
POSTPONED
Marshak 117
The Division of Science Student Council is hosting a panel of students on how to get involved in science research on campus. Each department in the Division of Science will be represented, including math. Come with questions!
Division of Science Research Opportunity Fair
POSTPONED
Marshak Cafe
Come hear about research opportunities on and off campus! More details to come.
Women in Science Panel
POSTPONED
Location TBD
AWM is collaborating with the Women in Science club to put together a career panel for Women's History Month. Faculty across the science disciplines will talk about their experiences as women in science. More details to come.
Division of Science Masters Student Symposium
Tuesday March 31, 4:00 - 6:00 pm
Location TBD
Masters student research symposium and poster competition. Top three posters will win a prize! Deadline to register for masters students is March 16th.
For any questions or suggestions, please email DoSStudentCouncil@ccny.cuny.edu.
Day of Science
Thursday April 23rd
Details to come.
Math in Elections
Tuesday April 28, 12:30 - 1:30 pm
Details to come.
Other Opportunities:
Fordham MathFest
CANCELED
The Math Department at Fordham will again be hosting a MathFest at Fordham this spring. The theme this year is gerrymandering/redistricting and information can be found on their website. Please register if you plan to attend. While there is no registration fee, it helps the organizers with the event planning details.
NYC Regional Math Alliance RAMMP Summer Program
The program is open to all undergraduate students in the NYC area who will have completed mathematics courses requiring the writing of rigorous proofs. Students will receive a stipend for the eight weeks of the program, June 1 - July 23, which will take place at City College of New York. During the course of the program, groups of 3-4 students will work closely with their faculty mentor on research projects. More details are provided on the NYC Math Alliance website. Please send any questions on the program to nycmathalliance@gmail.com.
San Diego State REU
San Diego State University is pleased to invite applications to its Summer 2020 Mathematics Research Experience for Undergraduates. The program dates this year will be June 14 to August 7, subject to final NSF approval. The projects will be in number theory. The program will pay a stipend of $4000, provide housing, and some support for food for participants and the application deadline is March 1, 2020. For a detailed program description and application instructions/materials, please see the program website here.
Past Events
Additional Information
Links to scholarships that may be of interest:
Documents