Mohammad Islam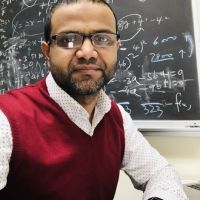 Position

Adjunct Lecturer

Email

Office

MR 326

Office hours

T 3:00 Pm to 4:00 pm (or by appointment only) in 1 / 511 NAC

Office phone

(212) 650-5105
MOHAMMAD ISLAM
Biography
Mohammad Islam, a renowned mathematics and computer science figure, began his academic journey at the Shah Jalal University of Science and Technology (SUST) in Sylhet, Bangladesh, where he completed his B.Sc. and M.Sc. in 2005. Following his early education, Mohammad took up a teaching position at the National University in Bangladesh, igniting his passion for mentoring the next generation.
2007 marked a pivotal year for Mohammad. He moved to the United States and enrolled at The City College as a graduate student. By 2009, he had added another feather to his cap, obtaining a master's degree in mathematics from City College. Concurrently, he began his teaching career at the institution, initially as a graduate student lecturer and teaching assistant. Mohammad's expertise and commitment to education led him to John Jay College of Criminal Justice (JJAY) in 2009, where he continues to inspire students.
Outside the confines of the classroom, Mohammad is deeply involved in community service. He takes it upon himself to guide the community on education, immigration, and employment opportunities. As a staunch advocate of holistic development, he indulges in sports like volleyball, basketball, badminton, and soccer.
Currently, Mohammad is augmenting his academic prowess by pursuing Ph.D. classes at the Graduate Center. With an emphasis on practical application, Mohammad's teaching methodology comprises solving complex problems, interactive lectures, and fostering student participation. He firmly believes academic success hinges on consistent effort and practical application, urging students to devote ample time to homework and self-study.
His teaching mantra emphasizes building intellectual stamina rather than rote learning. Mohammad always encourages open communication, urging students to share feedback and insights to ensure an enriching learning experience.
Education:
• Certified Professional Math Educator for Public High School
• Effective Practices in Online Teaching Certificate, JJAY, CUNY
• Practical Teaching for Resilient Learning, JJAY, CUNY
• Re-Framing Career Readiness for CUNY Students
• M.A. in Mathematics, City College, The City University of New York, USA
• M.Sc. in Mathematics, Shah Jalal University of Science and Technology, Bangladesh
• B.Sc. in Mathematics, Shah Jalal University of Science and Technology, Bangladesh
Courses Taught: Mohammad's teaching portfolio is vast and varied, from the foundational Basic College Mathematics and Pre-Calculus to the intricate realms of Vector Calculus and Business Mathematics.
Contact:
• Email: mislam3@ccny.cuny.edu / mislam@jjay.cuny.edu
As a devoted family man with a wife and two sons, Mohammad Islam blends personal dedication with professional passion, making him a revered figure in the academic community. Whether you're a student or a fellow educator, Mohammad's journey and commitment to the field are truly inspiring.
Classes
For Fall 2023, Mohammad Islam is teaching: